Capturing every precious moment in life is worthy of immortality. One of the most important time in your own life, the most important way is to make them unforgettable through a video. These precious moments can only be immortalized in the wrong, such as weddings, birthdays, etc., should be immortalized in the form of video.
Now, we can edit the precious moments captured in the video or use online video editor software to edit it again to enhance the appearance; usually, the editor will edit the successfully captured video to make it more interesting, such as adding music or Other filters for making videos. More interestingly, this is a best online video editor without watermark 2021.
List of the best online video editor without watermark
You can execute many online video editor apps for free, but this time I narrowed it down to only a few apps you can try. Here are the best online video editor without watermark. 
1. FlexClip
Maybe this FlexClip feels foreign to your ears? If so, you need to try this online video editor. I have tried FlexClip. In my opinion, FlexClip is an online video editing application without a watermark that is very practical and easy to use, especially for friends who are still beginners in video editing.
This FlexClip has many features, templates, and animations that you can apply to your video later. What I love the most about FlexClip are the templates. You can find free video templates without watermarks with a maximum limit of 12 projects for the free version. The template consists of Food, Animation, Technology, Fashion, Education, Wedding, Business, and many more.
If you want to know the features that FlexClip offers, you need to read at a glance about the features below. 
Following are the features offered by FlexClip:
Easy & free to use.
You can choose footage from a variety of high-resolution photos, video recordings, and royalty-free music.
Having a clean storyboard allows anyone to cut videos, insert text, add music, and record sound with just a few clicks.
Export videos in various ratios and resolutions including 1080p, 720p and 480p.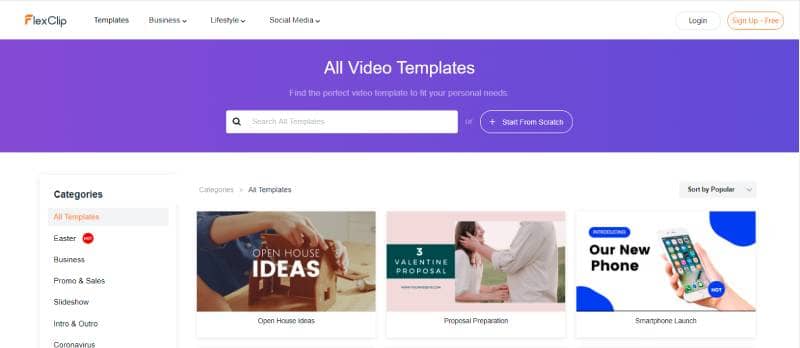 Now we dive deeper. Here I am trying to create a project using the available templates. When you try to create a new project, you will be directed to the editor page to edit videos, insert text, animations, music etc., on the page.
You can also delete unnecessary parts of the video. When you have finished editing the video, you can click the Export Video button in the top right corner. After that, my friend can choose the type of video resolution after the export process is complete. If you are still using the free version, then you can only choose 480p resolution.
Friends, you can immediately click Export Video to start exporting and wait a few moments until the video creation process is complete, then click Download Here to download it.
Interested? Friends you can visit the site at https://www.flexclip.com/
2. Movie Maker Online
Secondly, there is the name Movie Maker Online. I'm sure you have heard of or are even familiar with the name Movie Maker, one of the well-known software that you may have installed on your desktop, now this tool also has an online version and is free of its name. Watermark, same as the desktop version.
Similar to the Desktop or PC versions, in Movie Maker Online, we can also make a video consisting of a series of photos and then compiled it until finally, it becomes a video, you can add a series of music or audio when doing the editing process, which is not too difficult and easy to use. Understood, of course, it is very suitable for beginners who will learn video editing online.
Other Related Content: Start a new hobby
3. ClipChamp
Continue to number three. There is the name Clipchamp as one of the online video editors without a watermark that you can try. You can also do video editing online. You can do editing like professional editors for friends who are just using the Clipchamp software for the first time. Here, my friend can find various guides in the form of videos embedded in the menu bar on the Clipchamp site. 

What made me fall in love with this software, one of which is the stock images that are quite a lot, but unfortunately these stock images are only available in the paid version, for the matter of using it like a movie maker, here we can also place some images which can then be compiled into a video.
Besides, this software is also trusted by large companies such as Google, Deloitte, Microsoft, and many more.
4. Video Toolbox
Furthermore, the name Video Toolbox, in terms of appearance and how to use it, is a little more complicated than the previous 3 software. However, in this Video Toolbox, you can use a variety of sophisticated tools. You can save videos in popular formats such as MKV, MP4, MOV and many more.
Another advantage of this software is that you can import videos with a size of 1500MB and many things you can deal with the Video Toolbox, such as cutting videos, recording audio and much more.
Not only is it free of watermarks, you can also add your watermark in the Video Toolbox.
5. Video Cutter
Number five, there is the name Video Cutter. Maybe this is a very simple but not online video editor application, whereas the name implies, you can only cut videos, play the tilt of the video, and a few other small things you can do. All editing is done through your browser. 
6. Magisto
Sixth, there is the name Magisto. Magisto itself is an online video editor application designed for PC users. Not only PC Magisto can also be downloaded in the Android version, Magisto already uses Artificial Intelligence technology to make the online video editor work and process faster and simpler.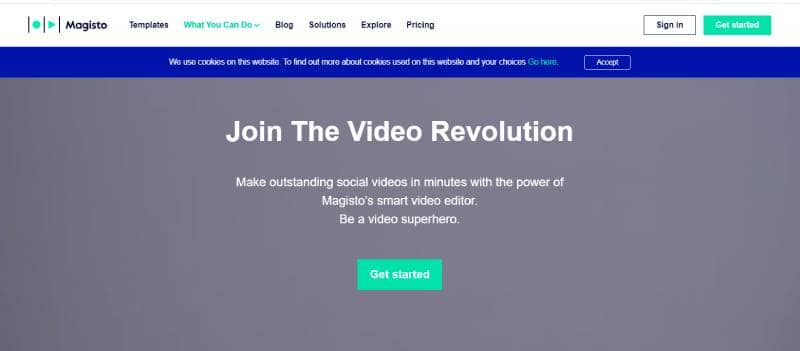 One of the recommended software for friends who really want to start learning to do video editing online.
Definition of a Watermark
So from earlier, we have always discussed what is called a Watermark, what is meant by a Watermark? What is the difference between a video with a watermark or a video without a watermark? Ok, let's discuss this a little. If translated into Indonesian, Watermark means a watermark where the watermark is usually found in a video or image.
Besides, the watermark itself explains that the image or video is copyrighted or another person's work. The watermark is usually in the form of a logo of the copyright owner.
Conclusion
Doing video editing can be done from various types of applications, both online video editor and offline too, with a watermark or without a watermark. Suppose you can use some of the software that I wrote above without a watermark. In that case, the results can be similar to professional online video editors without installing applications on the device.