If you are a blogger or managing a website, then you must be aware of google adsense account. Many bloggers/website owners are running such websites to earn some money. There are some requirements that you need to fill to be eligible to earn some cash.
There is no such requirement to buy a domain, free blogger/Blogspot domain can also be used to earn money. I have seen many free Blogspot domain running ads.
Make your website blogger ready for Google Adsense
If you want to join AdSense, then your website must have a unique content quality, to get success.
You need to create content that can engage users towards your blogs and make them read the full content.
You need to arrange your images and text in the right manner so that users can find the appropriate content for what they are looking for on your website.
Your blogger/website must have a comment section to improve your website through feedback. You need to moderate each comment to get free from spam or inappropriate comments.
You must have a comfortable navigation bar so that the user does not face any problem while accessing your site. All elements must be aligned correctly, content should be readable, not too big text nor too small font. Clicking on any drop-down or any button must be fully functional.
If you are using, make sure they are your own image and not any copyright images. Otherwise, you will be unable to take part in the Google Adsense program.
If you have a Menu Bar, then it should be like as below:
For a Food Blogger Home-Veg-Non Veg-Snacks-Sweets-Cakes-Reviews-About Us
For a Digital Marketing Blogger Home-SEO-SMO-PPC-Adwords-Facebook Ads-Content Marketing-Services-About Us
Some Must Pages on Your Website
If you have a website and using a navigation bar or menu bar, then you should have these pages to qualify
About Us

Privacy Policy

Contact Us
Terms and Conditions (If you have a shopping site or you deal with money)
Eligibility for Google Adsense Account
Before applying to Google Adsense, you must check the below requirements.
You must have unique and high-quality content on your website or free Blogspot domain. It is also said that Content is King, Always publish high quality, self-written posts, or blogs. Don't copy and paste from other sites to increase the number of blogs. Write content more than 600+ words, writing meaningful content, increases your website dwell rate. Sometimes you can post content with a lesser amount of words but try to be under the prescribed word limit. Always write content error-free and make sure they are also grammatically errored free. Then check their plagiarism, so that you can change if you got some percentage of plagiarism. Then post it.
Your content must comply with Google Adsense policies.
To get faster approval, you must obey their policies & terms and conditions also. Like:
1) If you don't obey these rules, they can disable, disapprove, and even suspend your account and request an Adsense account.
2) Don't force yourself to click on ads, increase traffic by automatic traffic generation tools to gain impressions and clicks to earn money. It is also suggested not to click on your own ads.
3) Don't force other users to click on ads or view ads. Do not offer advice to other users or perform search. Don't place any kind of third party images, near to google ads.
4) Don't modify your website/blogger so that no one can find the difference between a user created link and google promoted ads.
5) It doesn't allow you to misplace the label above the google ads place, like Ads here, promotional links, sponsored links.
6) Any blogger should not place ads code on a page that violates google policies. If it is done, then your account can be deleted or suspended.
7) Don't place code on a page that contains abusive or adult content.
8) Don't put your ad code on a single page that is receiving traffic to get clicks, or you may not get to participate in any clicking programs.
9) Users are allowed to modify ad code, keeping in mind that doing this will not harm performance and advertisers.
Your age must be at least 18 or more. If you are a minor, you can use your parent's Google account to sign up for Google Adsense. Then after approval, parents will be responsible for all payments generated by the website.
When you have a website and want to participate in Google Adsense
If you are the owner of a website, then you must have access to HTML source code. Then you need to place Google AdSense code between <head> tags but before </head>.
If you are not an owner of the site, then you don't have access to source code, such as (www.facebook.com), then google Adsense will not be able to verify your ownership, and hence you cannot participate in the AdSense program.
If you do not have a website or your current site is not compatible with JavaScript. Then you must have to create a new website to participate in this Adsense program.
How much website traffic is needed to get approved?
About this question, there is no accurate answer to this. Actually, there is no minimum limit to get verified. You can get your account verified, even at 100 views per day! Even after receiving 500 views per day, you will not get approved. It's not fixed.
How do you know if Adsense is approved?
When you apply for a Google AdSense account, it will take upto 2 weeks to be approved. You can check whether your account is approved or still under review. Just visit the AdSense dashboard, here you can see what the status of your Adsense account is.
Before You Apply For Google Adsense
Your Blogspot/blogger must be at least 6 months old. Sometimes we can apply a little early, but we have to buy a custom domain in that case.
The number of blogs must be 20+, but you can also apply in less number of posts. But in that case, always write blogs with more than 1000 words.
TheJankari website of my friend started the blog in December 2019, and after applying for Google Adsense, she got approval even in a 10+ post on the site.
You can check the website is showing ads now.
How to apply for Google Adsense?
First of all, check that your current blogger/Blogspot/website is eligible for the Google Adsense program or not.
You can check it by login to your blogger dashboard, then click on Earnings. Many of you will see different screens below.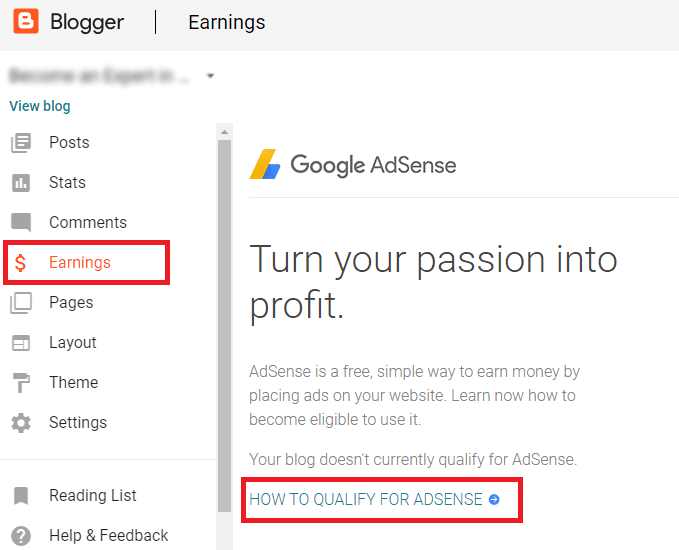 1) If you are seeing this screen, Which shows that Your blog doesn't currently qualify for AdSense, then it means that your blogger is not yet qualified according to Google Adsense policies. However, if you want to try to make a request by Google Adsense, you are free to do it. As there is no limit to request. But if you wait some time, maybe your blog will qualify. If it changes to Sign up for AdSense.
2) If you see this screen, Sign up for AdSense. Then your blog is now qualified to take part in the Google AdSense program.
Google AdSense Approval Process
1) First, sign up for AdSense, you need to enter your full Blogspot/blogger url ( https://yourblog.blogspot.com/ ) and email which is associated with the blogger.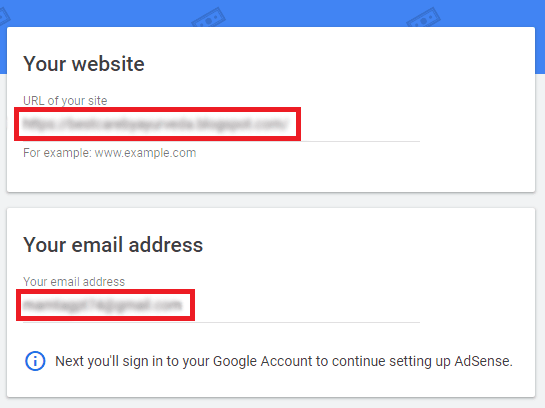 2) Then click Continue in blogspot.com
3) Then you need to choose your country and Accept the agreement and click Create an account. 
4) Then you will see AdSense Code on your Adsense dashboard. You need to paste these codes in your Blogspot HTML Source Code. Paste it between <head> and </head> tags.
5) When you paste the code, Then you need to confirm that you have pasted the code.
6) Then you will see a screen saying that We're Reviewing your site.
Process After Google AdSense Approval
It will take upto 2 weeks for approval. After successful approval on your Adsense account. You will get a confirmation email by google Adsense stating that your xyz.com is now successfully verified and approved. Now your website is ready to show ads.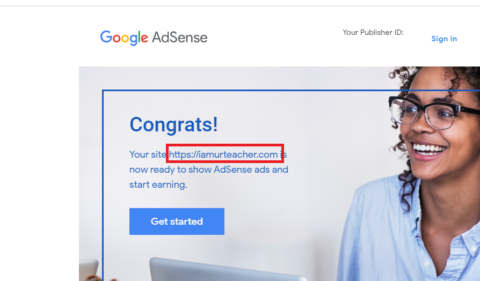 You can choose the ads position and their placement, or you can select automatic placement on your website.
After showing ads, when you reach to 10$ (Verification Threshold). You will receive a verification PIN via post or other means to your current address you mentioned in your Adsense account. It will take upto 2-4 weeks to arrive at your address. It can also take more time, depending on your location.
After receiving the Verification PIN, you need to login to your AdSense account and enter it. You have 4 months to open it after receiving it if this is not done within 4 months, your account will be suspended, or they will stop showing ads on your website.
Congratulations, you have successfully verified PIN and after collecting 100$ (Payment Threshold) in an Adsense account. You can withdraw it to your bank account.
If you are still facing any problem need my help in doing seo or for on page seo or are stuck on any above steps, feel free to ask for help.