GoDaddy is without doubt a very big name in the hosting business, it hosts a million websites around the world. It offers a vast amount of products which offer almost everything you might need.
You will be surprised to know that GoDaddy is the top hosting provider as well as domain registrar in the world. They are currently managing more than 82 Millions of domains.
To promote bloggers, GoDaddy offers various types of hosting plans to choose from. As bloggers need less expensive and an economical option to start their blogging journey.
Even they provide great solutions for businesses that can easily handle high amounts of website traffic.
After researching reliability of it's offered services and packages, this GoDaddy hosting review is generated, considering their pricing, offers and pros and cons.
GoDaddy Hosting Plans and Pricing:
GoDaddy Web Hosting review:
Economy: $5.99 a month
1 website and includes 100 GB storage
Unmetered bandwidth
1 year Free domain registration
Free Microsoft 365 email for 1 year
Deluxe: $7.99 a month
Works for unlimited websites
Includes unlimited storage
And same remaining resources as Economy
Ultimate: $12.99 a month
Has all resources of Economy and Deluxe plan
Additionally –
Free premium DNS
Free SSL certificate for 1 year
Increased processing power
Maximum: $19.99 a month
A features of ultimate package
Additionally Unlimited SSL for all of your websites.
GoDaddy WordPress Hosting review:

All of GoDaddy's wordpress hosting's plans offers:
Automatic security updates
One-click migration tool
Drag-and-drop page editor
Access to thousands of free themes and plugins.
Basic: $6.99 a month
30 GB storage
Bandwidth up to 25,000 monthly visitors
Website backup protection
Daily malware scans (automatic)
1 year of free business email
1 free domain for the initial term
Free SSL for the duration of hosting.
Deluxe: $9.99 a month
75 GB storage and
Bandwidth up to 100,000 monthly visitors
An SEO optimizer
One-click testing site.
Ultimate: $12.99 a month
Unlimited storage
Unlimited bandwidth
Unlimited malware removal
Unlimited hack repair.
GoDaddy WordPress Ecommerce hosting review: $15.99 per month
Unlimited storage
Unlimited bandwidth.
Includes needy resources for an online store such as:
Unlimited product listings
Real-time shipping rates
And they also offer free access to over a dozen top and needy WooCommerce extensions.
GoDaddy VPS hosting review:
1 CPU core (upgradable to 8 CPU cores)
1 GB RAM (upgradable to 16 GB RAM)
20 GB SSD storage (upgradable to 400 GB SSD storage)
1 vCPU – $4.99 per month
2 vCPU – $19.99 per month
4 vCPU – $39.99 per month
8 v CPU – $69.99 per month
GoDaddy Dedicated Server review:
GoDaddy offers over 8 useful dedicated server plans, with each having their own bunch of isolation resources. This plan is usually preferable for server developers and agencies seeking fast developer services.
Starts at DS 32 – $129.99 per month
And upgradable to DS 256 – $399.99 per month
GoDaddy Business hosting review:
$19.99 a month (depends on resources you choose)
GoDaddy business hosting plans offers you some more dedicated resources with an easy to handle control panel.
GoDaddy Windows hosting review:
Starts at $5.99 a month (upgradable)
An amazing option for windows fans which includes:
100 GB of storage
A free Office365 email for 1 year.
GoDaddy Reseller hosting review:
Starts at $39.99 a month (upgradable)
GoDaddy offers a better space for resellers, it let's you see their servers to start your own hosting services. If you need more from them, you have to call their sales team for more specific terms.
The Pros and Cons
Pros
Unmatched Speed: In speed tests worldwide it shows amazing results.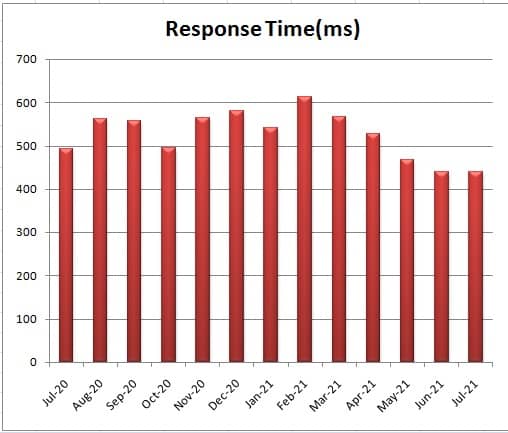 You will be surprised to know that the average page loading time is as low as 526ms over the last 12 months.
GoDaddy Page Speed July-2020 – July-2021
| | |
| --- | --- |
| Months | Response Time (ms) |
| July 2021 | 440 |
| June 2021 | 439 |
| May 2021 | 468 |
| Apr 2021 | 528 |
| Mar 2021 | 567 |
| Feb 2021 | 612 |
| Jan 2021 | 541 |
| Dec 2020 | 580 |
| Nov 2020 | 563 |
| Oct 2020 | 495 |
| Sep 2020 | 556 |
| Aug 2020 | 562 |
| July 2020 | 493 |
This is an amazing improvement by godaddy, you will not be able to get that speed in more cheaper way. Improving page loading speed is required. If your website loads slowly, then your customer or visitor will leave your website in no time. It affects your ranking also.
So, before choosing any hosting services, check their host server speed. As you won't be able to change that speed. In case of GoDaddy hosting, you can rely on them.
Windows-Based Hosting: GoDaddy also offers hosting which are completely windows- based, good for windows fans.
With GoDaddy you can easily install any third party integration to your site. Easily add more than 120+ apps in just one click.
CMS like WordPress, Drupal & Joomla. There are lots of professional developer friendly tools like Python, Linux, MySQL, cPanel.
There are loads of options to choose from, according to your need and requirement. Whether you are a beginner blogger or a professional web developer. They also provide drag and drop website building plans.
Storage & Bandwidth: They have quite generous storage options. There's no or less limitations in the amount of traffic your site can get. Minimum they provide 100Gb of storage and unmetered bandwidth according to the hosting agreement.
They will notify you also when your plan needs to be updated. Means no need to worry about that.
Easy to Use: They designed their interface and control panel easy enough that it can be used by a beginner.
Uptime: Decent Uptime in last 12 months (July 2020-July 2021)
(Check Uptime at http://stats.pingdom.com/zp1kq4gopbjs/3596737/history)
As GoDaddy mentions that their last average uptime of 12 months is 99.91% That's really good. It means only you will face 7 hours 53 minutes of your website downtime.
You will only face 39 minutes of downtime on your website on an average of a month. You will only face downtime of 1 minutes daily (approx). That will not be a fair reason to neglect GoDaddy.
Last 12 Months Uptime
| | |
| --- | --- |
| Months | Uptime % |
| July 2021 | 100 |
| June 2021 | 99.99 |
| May 2021 | 99.89 |
| April 2021 | 99.58 |
| March 2021 | 99.93 |
| February 2021 | 99.91 |
| January 2021 | 99.98 |
| December 2020 | 99.97 |
| November 2020 | 99.82 |
| October 2020 | 99.96 |
| September 2020 | 99.84 |
| August 2020 | 99.99 |
| July 2020 | 99.99 |
FREE Professional Email: If you buy large packages, you will get great benefits. Getting GoDaddy hosting gives you one year free professional email. It can improve your business impact. You can check my video on how you can set up professional email in godaddy.
Professional Email makes you eligible to get an email matching your website domain. Like I own a domain iamurteacher.com, then you can create a professional email like admin@iamurteacher.com or info@iamurteacher.com .
Cons
Pricing: They are not the cheapest one out in the market. Their renewal rates are high and they become more expensive when you have to buy some basic add-ons (backups and SSL certificates). You can get some cheaper hosting service as compared to GoDaddy, that is Hostinger.
You don't get a FREE backup Service
The most common thing to protect a website is its backup, that can be used in case of emergency or in website deletion.
You will not get it for FREE, you need to buy this service alone. It starts from $2.99/mo. It will take backup automatically everyday. It allows you to take backup, restore in just one click.
SSL certificate: For making your site SSLed (which are must these days), you'll have to pay for them too. That can cost you around $63.99/year.
Migration: Unlike Bluehost, Hostinger as they provide both paid & free migration service.
GoDaddy does not offer any free migration services.
Missing advanced features: They do not come up with advanced features like staging areas or Git repositories which are important these days for developers.
Customer Support
GoDaddy offers a benefit of their live support rep. They offer 24/7 live chat and phone support.
Their database is also more developed than other hosting providers in the market. In addition to this, their How-to section includes video lessons on many basic and important topics, which makes the learning process easy.
I have tried their customer support service, about some refund policy on wordpress hosting.
What did I get?
Nothing till 35 minutes.
Their waiting time is so high, to get a reply.
Money back guarantee
30 day money back guarantee – Annual plans whereas 48 hour money back guarantee – Monthly plans.
If the purchased plan includes free domain registration for one year then you'll still be able to use the domain with some other hosting and some money for that would be deducted from your refund amount.
Apart from that their money back terms and policy is somewhat confusing which is discussed further.
Website Migration
They do not offer free transfers.
Cost for managed migration is $99.99 per site.
The migration usually takes 7-10 business days.
For whom does it fits
If you don't care about price then GoDaddy can be a good option as it offers a variety of hosting plans including Windows-based hosting services. It has a decent speed and can offer a valuable limit for storage and bandwidth but on the other hand it's really expensive, it offers a lot of upsells like SSL certificates, backups and website migration issues.
It too has a little problem with uptime ratio recently it's been good for the last 24 hours in shared hosting plans mostly.
Extras
Easy Signup: No issues or difficulties in the sign up process.
Payment Methods: All major and big names in credit cards and PayPal are accepted.
Confusing Refund Policy: It has relatively confusing and complex return terms and policy says that "If a Hosting Service is been used/performed, then it is non-refundable, it is only eligible for a refund in 30 days to the date of transaction, if the service is not performed yet"
Selling Add-ons: It has a lot of upsells which increases their usual prices.
They have extra prices on:
Price variation for the initial term length
Site migrations
Backups
SSL certificates
Security, and more.
Fast Account Activation: No delay in Account Activation.
Experience of Control Panel and Dashboard: cPanel and installation of basic apps are mostly one-click based installation, and easy to perform.
Best alternatives for GoDaddy:
Conclusion
Apart from pricing problems, it can offer you a lot of useful resources, variety in plans, easy control panel, amazing customer support, a free domain for the duration of the first plan, a decent speed and many more.
If you still have doubts, feel free to ask in the comment box, we'll surely reply.
Have you tried GoDaddy? How was the experience? Positive or Negative?
You can drop us a comment or review here!