SE Ranking will be a great tool for all digital marketing people. It's like a fully loaded tool, that consists most of the tools that a digital marketing person needs. With the help of SE Ranking you can enhance your website performance by tracking it precisely.
I only use the best tool and I prefer SE Ranking as one of the best tools. Before I start this review, I also recommend you to try, they provide 14-Days FREE Trial. I will explain all features they are providing, in SE Ranking.
Most Important Feature of SE Ranking: Cloud Based Platform
I have seen many times the ads of SE Ranking saying "All-Inclusive Cloud-Based SEO software". It is cloud based because it runs in the cloud. Means no need to install software or any kind of minimum system requirement to use this service.
It can be used by anyone from anywhere. Only you need to visit the website and login with provided details, then enjoy the services at its peak. It is so easy to use.
All Tool Inclusive: SE Ranking
SE Ranking is not a single tool. It is a small packet of powerful tools. It contains all tools that can help to grow any website ranking and performance.
Tools included in SE Ranking are Social Media, Website Auditing, Competitors Analysis, Traffic Analytics, Backlink Monitors, Rank Tracking and much more, when you explore.
Now, here are the details of each and every tool, with image for better clarification.
Ranking
In the Ranking Section, You can check the ranking of your keywords, in a detailed view. If you are using a trial account. You have only access to check the ranking of 250 keywords once in a time. You can create groups of keywords according to your choice. It helps to classify the keywords.
Ranking-Detailed
In the detailed part, you can see all your keywords performance, like how many keywords are in TOP 1, TOP 3, TOP5, TOP 10, TOP 30 & TOP 100.It allows you to see how many keywords got up and down.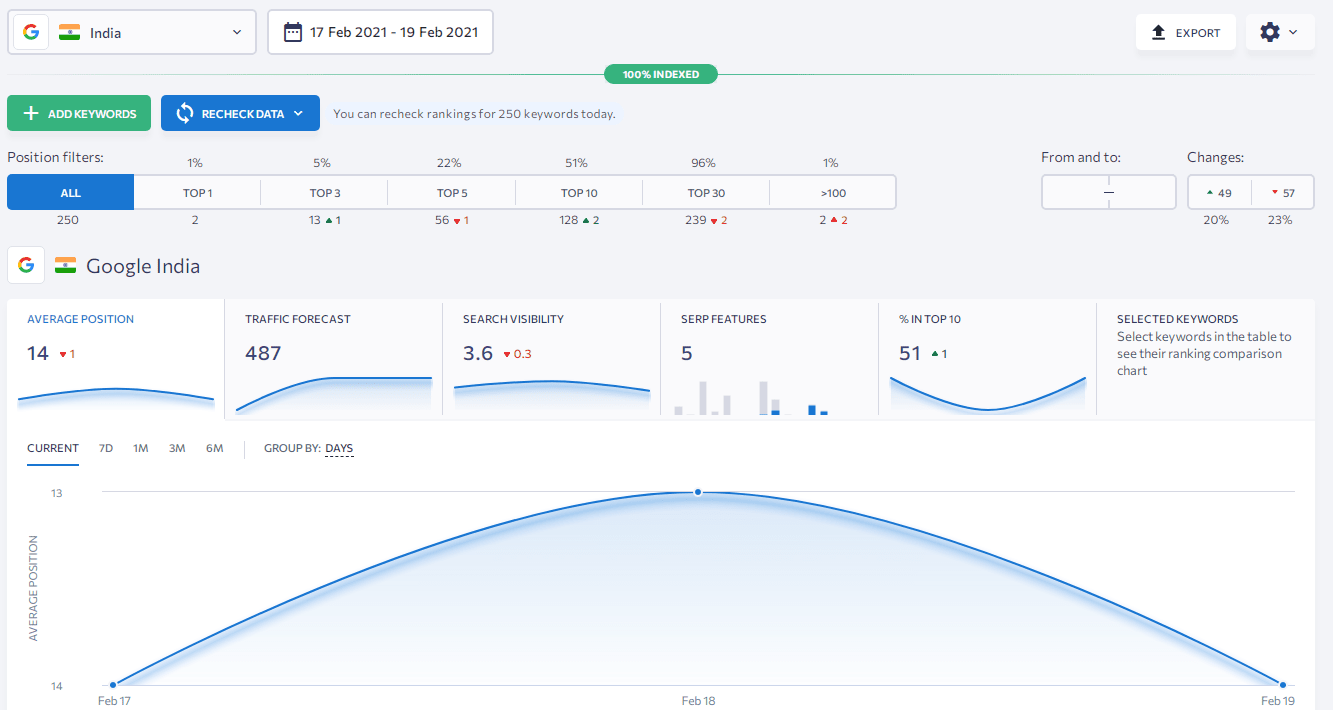 The image shown above gives you a deep clarity of how the dashboard looks.
You can see the average position of all keywords, traffic forecast, search visibility, serp features and Percentage of how many keywords are in top 10.
Then you will see the graph of average keyword ranking of all your selected keywords
SE Ranking Review: Keyword Rank Checker
Only the SEO person knows how important the keywords are for us. You can also get benefits from companies to rank many keywords.
SE Ranking gives you the power to track and check rankings and their improvement time to time. You can check your ranking on many search engines like Google, Bing, Yandex, Youtube, Yahoo.
You can also see the volume and ranking of keywords. You can also check paid keywords ranking. If you want to track your competitors keywords, SE Ranking is here for you to help.
SE Ranking Review: Analytics & Traffic
SE Ranking also provides a great feature, that is connecting google search console and google analytics in a single platform to keep eye on it. Without connecting your search console and analytics you can't use this feature. If you don't know how to set up google analytics you can use this article to setup google analytics for your website.
You can easily check all the things like sessions made by users, number of users visited, pageview you got on your website, Average session duration on your website and bounce rate on the website.
Overview
In the overview tab, you can also view the types of traffic you got on your site. like how much you got organic search, direct traffic, paid traffic, referral and social type of traffic.
Snippets
In this part you can easily take view on how your average position is improving over time. You can also check your feature snippets here, on which they are appearing.
Google Search Console Data
In this tab you will see the same dashboard look like, google search console. They show clicks, impressions, ctr and average position. A graphics up down can also be seen in this tab.
SEO Potential
In this tab you will be able to estimate the conversion from seo and an average revenue generated by per customer. It also evaluates the cost of your estimated traffic.
SE Ranking Review: My Competitors
One more top level tool added in this SE Ranking tool, that is keep track of your competitors also. If you want to check your competitor, then you need to add some competitors, whom you want to track. You can easily add up to 5 websites.
The tool shows all keywords that are in TOP 5, TOP 10 & Top 30. You can also view the average keywords rank of your competitors website. How many keywords improved and how many dived. You can also see how many urls of each website get crawled.
In the SERP Competitors Section, you will be able to see all of your enter keywords and their ranking day wise. It will show you the keyword position on a specific day. You can select keywords and easily view the rank of your website. You can filter them according to TOP,10, 30, 50, 100.
In the Visibility Rating Section, you will see the other websites that are organically ranking against your website. It shows their organic visibility percentage, alexa ranking, backlinks and referring domains.
If you want to know 14 Simple Secret Tips on How to increase organic traffic. Then you can read this blog to increase your website traffic.
SE Ranking Review: Marketing Plan
In this section you will be able to see a dashboard which suggests many types of tasks to do for your website. Like Keyword research & Semantic core, on page optimization, mobile optimization, Strategy for content, off page optimization, including social media strategy. If you need more task, then its easy to add as its up to your need.

SE Ranking Review: Website Audit
In the website audit section, you will see all errors, warnings,notices and some checks.The full website audit consists of website security related issues like security certificate expiry, outdated versions, HTTP URLs in sitemap and proper redirections.
Crawling issues, duplicate content, Title and description problems. Website speed related issues. Incorrect use of redirects, unnecessary internal linking, external linkages, not optimizing images and much more issues like mobile optimization and Javascript, CSS issues. This tool covers each and every small issue that can happen on a website.
SE Ranking Review: Backlinks Monitoring
In this tool you can also use to check backlink of your website and other domains too. Also it show on which word (anchor text) is created. How many pages your website contains and performing in SERP. It also have a tool that google also allow to block URLs(disavow). You can go through this blog on how to create high-quality backlinks for your website to boost its performance.
SE Ranking Review: Social Media
In this social media section, you can use your social media accounts like facebook and twitter. It can help you to analysis user activity, demographic data. In twitter part you can keep eye on your subscribers/followers and will be able to re-tweet.
How to check ranking in SE Ranking
Before you can check any keyword ranking, first you need to create a project in SE Ranking.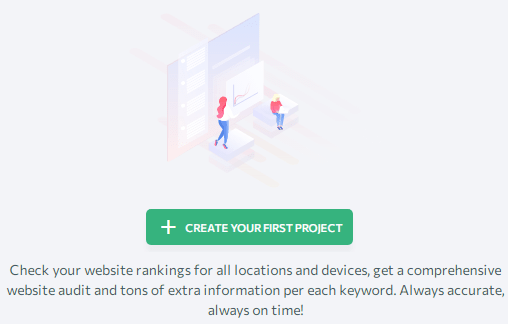 You need to enter your website main domain with correct address. Re-name your project and if you want to create a group you can create it here. If you want to search within 200 SERPs, select it. You can give permission to allow other users to use your account from here.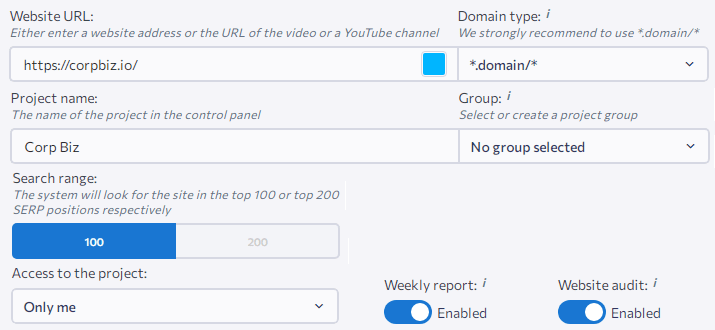 Then enter keywords here, it will also show some suggested keywords according to your domain.
SE Ranking also allows you to choose from various search engines like Google, Bing and Yahoo. You can also select from which country you want to check ranking. In the ranking part you can also count google map listing in this ranking part.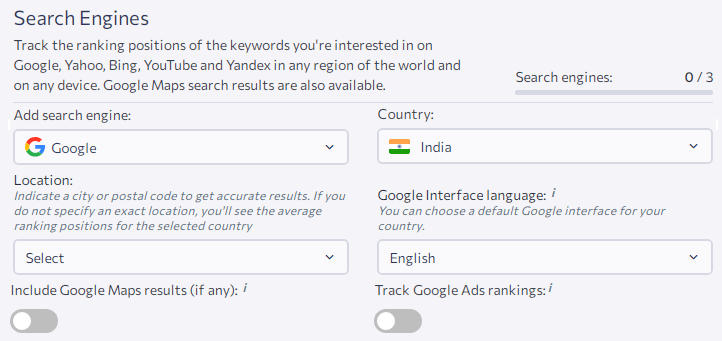 Here you will also get option to add competitors, upto 5 websites. It can also includes subdomain.
You will be able to see a screen which shows indexing process along with all keywords ranking.
Conclusion
SE Ranking is an awesome tool to check keyword ranking, without spending hours. Its the most famous and amazing tool for all seo persons. As its name says all tool in one place, it has all what you need for analysis. I also recommend all of you to try once, they have 14 Days Free Trial also.
If you want any information about its performance or have any question regarding this tool, you can comment below.
Frequently Asked Questions- FAQs About SE Ranking Review
What is SE Ranking?
SE Ranking is an all in one SEO software created for website owners, agencies and SEO experts. It helps you with rank tracking, keyword suggestions, competitor analysis, and much more.
Does SE Ranking offer a free trial?
Yes, SE Ranking offers a free 14-day trial where you'll get access to their Optimum plan for 14 days.
What is an SE Ranking white label account?
The SE Ranking white label feature allows you to use your own domain for White Label SEO without having to provide a single link to SE Ranking. You can also use a custom domain, logo, branding and more with the White Label feature.
Which is better among SE Ranking vs Semrush?
Both SE Ranking and Semrush are great SEO tools that are used by a many peoples around the worldwide.
Is SE ranking accurate?
Most of the time it is accurate, but some times its not.
What are SE Ranking's top competitors?
Here are some of the SE Ranking's top competitors and alternatives. Semrush, SpyFu, Ahrefs, Moz Pro, Mangools Tools.
Where can I get the best SE Ranking deals?
You can use this link to get the BEST deals on SE Ranking along with a 14-day free trial of their Optimum plan.
Is SE Ranking a good tool for tracking keyword rankings?
Yes, SE Ranking is mostly used for keyword rank tracking. You'll get daily keyword ranking updates using their software and it gives you accurate rank tracking data.