What is Google Search Console?
Google Search Console is a type of free web service provided by Google, to monitor/handle our website and keep an eye on our visitors and our website appearance in Google search engine result pages.

When was it first introduced?
It was introduced late after SEO (Introduced in 1997). It was introduced in 2012, December, and at that time it was known as Google Data Highlighter. Then until 2015, the 20th of May, it was named as Google Webmaster tool. Later it was named as the new Google Search Console.
In 2018, January, a new version of google search console was introduced, and changes were made in the user interface to have a better user experience. Then in 2019, the 28th of March google removed his fetch as google tool. Then in 2019, September old google search console reports and dashboard pages were removed. After this time, many users have faced crawling and indexing issues, which was resolved in a few days.
Why is google search console used?
Google search console is used to measure our website performance like Click, impression, CTR (click-through rate) and an average position obtained by our content. It's a very vast tool for finding and fixing technical errors, crawling problems, fetching and indexing problems. We can submit our website sitemap.xml, check our website speed, mobile-friendliness, correct our robots.txt files and a lot more. You can visit here to boost your CTR.
What can you track from google search console tool?You can track, action taken by google on your content, like how many pages have some error and how many are valid. Breadcrumbs related issues, by which organic keyword user reached to your website, countries which they belong to, devices they are using to visit on your website, your website appearance and date wise user data.
How to setup google search console?
There are so comfortable and step to step guides, by which you can set up google search console.
1) Visit Google Search Console Official Page. Click Start Now.
2) Then you have a screen like that having two options to choose from. Here you need to determine which type of property you want to set. One is Domain, and the other is URL Prefix.
Before selecting any property first, let's understand both the property and their uses.
If you select the Domain property type, then you will be able to track your whole website, including all subdomains related to the sites. They can be in http, https, www types. Such prefixes do not matter in the domain property type. It's like a wide range of property having many metrics.
On the other hand, if you select URL Prefix property type, then you have the option to enter a specific url, but need to be very careful, as beginn ing with www, http or https . These are all distinct metrics to measure. So be sure what you need to choose. You can track even a single page of your website.
Here I have described how you can set up google search console, both property types.
Domain Property Type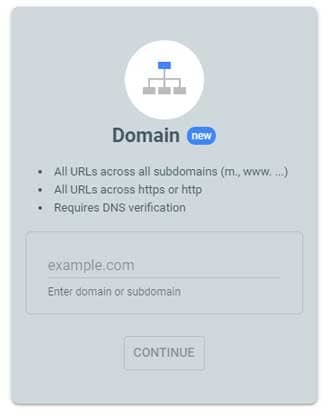 If you want to select this property type, then enter your full website url here.
You have to enter only the URL: makeyourbusinesswithus.blogspot.com, Like this, it should not have any prefix like www, https or http.
Make sure you are logged in by the account by which your domain is registered. This will help you in google search console verification of your property.
Then you need to select your DNS providers, like GoDaddy, NameCheap, and HostGator.
Then, click start verification.
It will redirect you to your DNS service site after logging in.

You will be verified, and Sometimes it takes a few hours after that it will be automatically verified.

After verification. You will observe a screen, as presented below.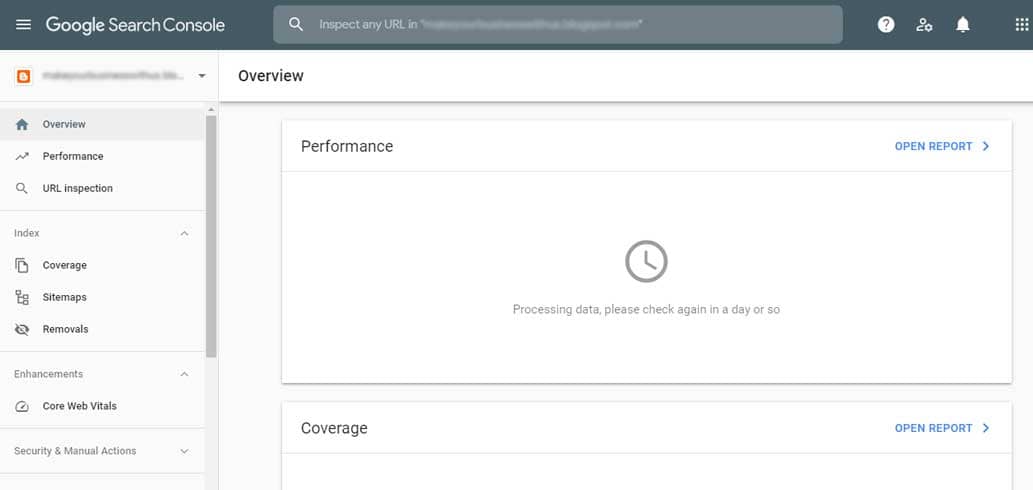 Now, your website data is in the processing stage, after a few hours or days, it will show the data, like clicks, impression, CTR and Average position and a lot more things.
URL Prefix Property Type
If you want to select this property type, first of all, be very careful, what you are entering in the URL. 

Now enter the url you want to track https://make.blogspot.com/.

Here you will see a recommended verification method. If you scroll down, you will see some other verification methods.
I suggest you go with the HTML tag. It's easy to verify. Select HTML Tag option.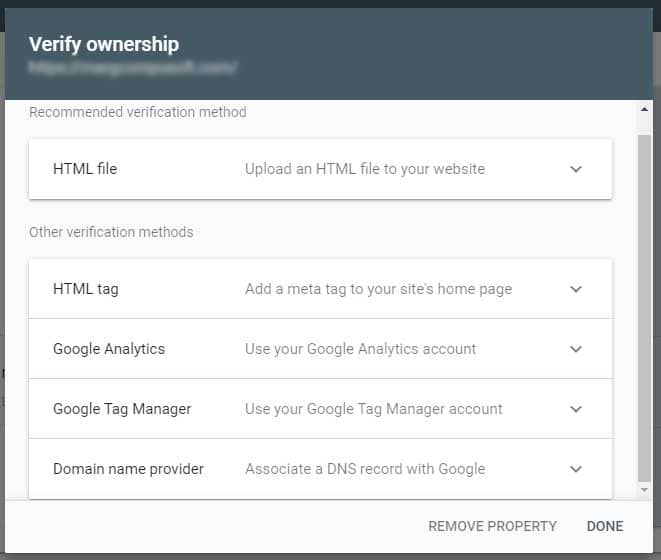 Now you need to copy the code and paste it in your website between <head> and </head> and then click verify.

Now you have successfully setup google search console.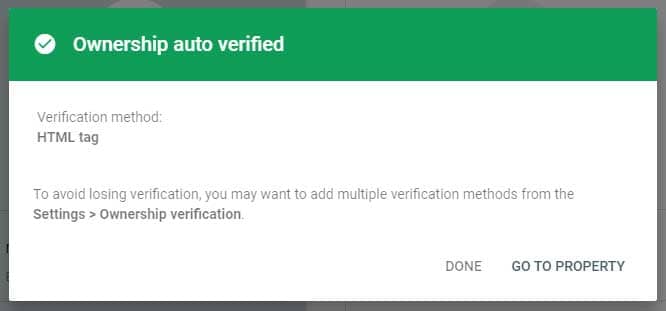 Google Search Console: Features You Can Access
Overview:
In this overview section, You will see the composition of Performance, Coverage and Enhancements of your website.

Performance:
You can see the performance of your website, which includes Clicks, Impression, CTR and Average position obtained by your website in Google SERP (search engine result pages). If you scroll down, then you can see more data.
You can also check by which keyword user found your website in search engine result pages. Countries by which users are coming, Devices the user are using to visit your sites like mobile phone, desktop and tablet, Search Appearance of your website like Rich Result, Review snippet, Web Light results and Date Wise user data.
URL Inspection:
In this section, after clicking on it, you will see a pop-up type option on the upper centre of the screen where you can enter any url to inspect it in the url inspection tool.

After entering the URL, it will analyze the url and give you the result of the inspection, which will tell you about issues, regarding indexing, crawling and other enhancement options.

Coverage
In this coverage section, you will see how many of your pages are having errors, valid with warnings, valid and excluded. Submitted and index status of all pages, Index not submitted in sitemap and a lot more.

Sitemaps
Here in the sitemap option, you can submit your sitemap.xml to google to get all your new pages to crawl and Index. You can also use google crawl tools. You can do this manually and google also does it automatically.
If you want to know how to add sitemap in blogger/website visit here.

Removals
Here you can request manually to temporarily remove your url from google search engine which will be last till six months, and you can also require to clear cached url of your page.
Your outdated content can be seen here. If a user reports that your content is not according to google policies like adult content, it will appear in SafeSearch filtering. Then you can take action to clear the confusion regarding content.

You can read here about google search removal tool.
Google Search Console: Legacy Tools & Reports
International Targeting
Here in this section, you can find features to target your website internationally. If you wish to focus your website audience you can change from here you need to change the country you want to target. I will brief this section in an upcoming post.


Links
From this section, you can check all external links, internal links, Top Linking sites, Top Linking texts.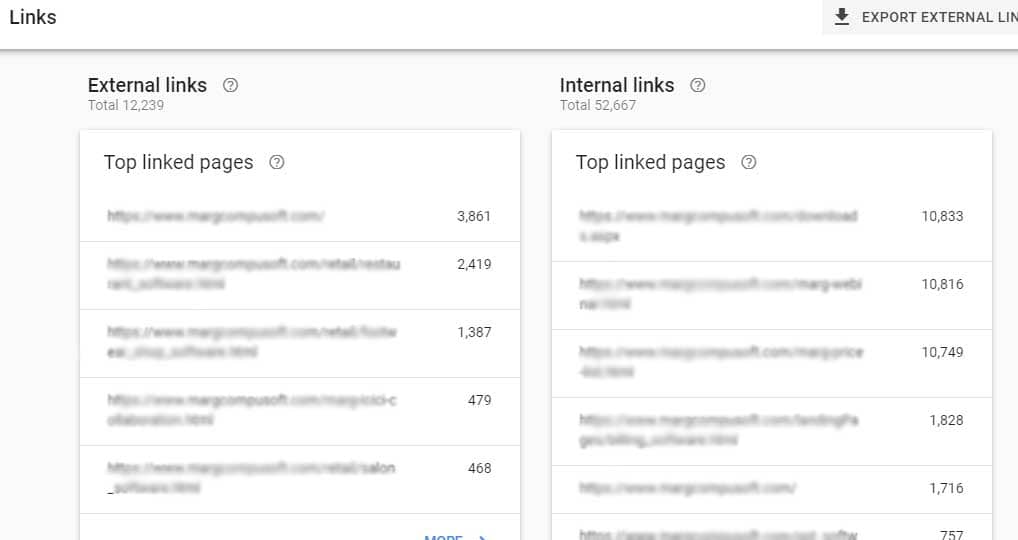 Setting
If you want to add a new user or if you want to remove this property you can do it from here, but you have to be a user with full rights, or you must be an owner of this property.