SEO tools help us analyze our website and the competitors. They help us improve our website by finding and fixing errors, finding new keywords, and measuring our SEO progress.
There are several SEO tools in the market. It becomes challenging to choose a good one.
We should look for a tool that marketers of all skill levels can use, delivers accurate and actionable data, and has a good balance between features and pricing.
SERPtimizer is one of the new SEO tools. This SERPtimizer review covers its features, pricing, pros, and cons.
What is SERPtimizer?
SERPtimizer is an all-in-one SEO tool solution for website owners, businesses, freelancers, and marketing agencies. It audits your website, suggests improvements, allows you to do link building, and download the customized audit reports in minutes.
The main features of SERPtimizer are:
Website SEO audit
Backlinks data
Keywords tracking
Link building suggestions
Competitor analysis
Interface
The interface of SERPtimizer is neat and clean. You can easily access SEO tools, guides, and login page. Moreover, the website is available in English as well as in the German language.
Registration
SERPtimizer requires your website URL, first name, last name, email address, and password for registration. You can access all features of SERPtimzier for free as it offers a free trial of 14 days. They do not require a credit card for registration.
Once you enter the required details, you will receive a confirmation email. You will need to click on the link in the email to complete the registration process.
Dashboard
Once you log in, you can access the dashboard area. You can see the complete website audit report, backlinks, keywords ranking, and SEO audit issues. Moreover, the dashboard also gives you access to other tools like backlinks, keywords, link building, and report design page.
Features
SEO audit tool
It is a comprehensive tool to audit all on-page seo, off-page, and technical SEO issues. It includes the following options:
Page structure
A page structure is required for SEO because it helps the search engines to crawl the website and index it easily.
Page structure tool shows whether the given page of a website is included in the sitemap. It also checks whether it is multilingual or has document-type issues. If it finds any issue, it also explains what it is and how to solve it.
Title
The meta title is the title of the webpage. It's what web browsers show in the tab of your browser, and it's also what search engines display in search results.
It checks for duplicate, long, and short title issues.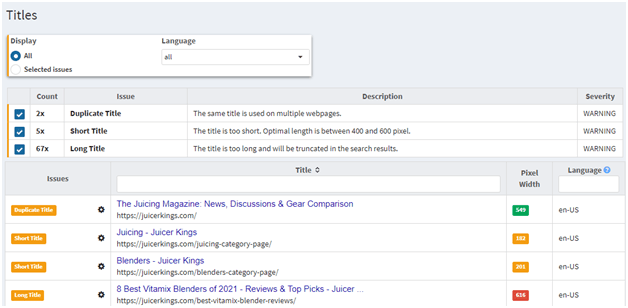 Descriptions
Meta descriptions are short paragraphs that can be placed on web pages that describe what that webpage is about.
It shows whether the meta description is short, long, duplicate, or completely missing.
Headers
If the audited website has header issues like the same h1 and title, duplicate header, long header, short header, or multiple headers. They all are listed under this option.
Content Audit
A content audit is essential in SEO because it ensures that the content is well organized and updated. It also ensures that search engines can index all of the content on the site.
Content audit tool checks for Text/HTML ratio, top words, word count, and character count of each page of the website.
Images audit
Alt tags are essential for SEO because they provide the text that is seen when the images on a webpage cannot be viewed, or in some cases when an internet user has their settings set not to display images.
If your posts have images with empty or missing alt tags, they are listed here. It also sorts the images by image type like decorative, informative, and functional.
Canonical tags
Canonical tags are designed to stop duplicate content problems. They are used to specify which set of pages is the original or 'canonical' version. All canonical tag issues are explained here.
Links
The links tab shows whether external links are working, broken, redirected, or there are server issues. It lists all the pages with the link issues and a solution next to them.
Linked domains
All external linked domains with the link type are listed in this tab.
Page depth
Click depth is the number of clicks a visitor must take to reach a specific post or page of your website. The higher the click depth, the more difficult it is for the user to navigate your website.
This tool helps us audit the number of clicks required from the homepage to a specific page.
Page speed
Page speed is vital in SEO and has officially become the ranking factor in 2021. This tool helps us audit the load time, page size, errors, and the number of files on a page.
The backlink tool of the SERPtimizer focuses on off-page SEO. It consists of three parts; overview, all backlinks, and new & lost backlinks.
Overview
It tells us the number of backlinks, referring domains, IPs, backlinks type, new backlinks, old backlinks, lost backlinks, anchor text, and top links.
All Backlinks
It shows all website backlinks with all essential details like source page, link, target page, and link type.
New & Lost Backlinks
If your website has gained some new backlinks or lost some old ones, they are listed here.
Keywords
The keywords tool allows you to add keywords to keep an eye on your website performance over time. You can easily add keywords by country, language, search engine, and device type. Moreover, you can also add your competitors to compare your performance with them.
SERPtimizer also allows you to export the data so that you can share it with your clients.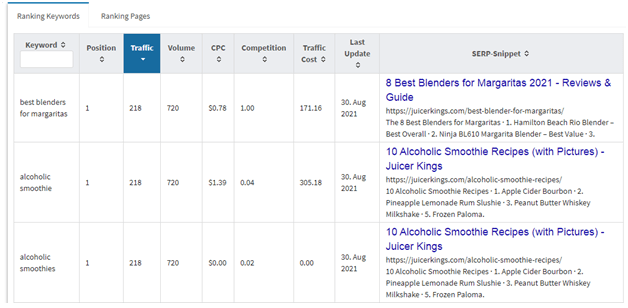 The link-building tools allow you to find the prospect and keep a record of your relationship with them.
You can search the prospects by keyword, country, and language. It shows all the details like link, title, keywords, relevance score, and a scan for broken links.
You can use this data for link building. This tool also allows you to add the competitors, see their backlinks data and find link-building opportunities.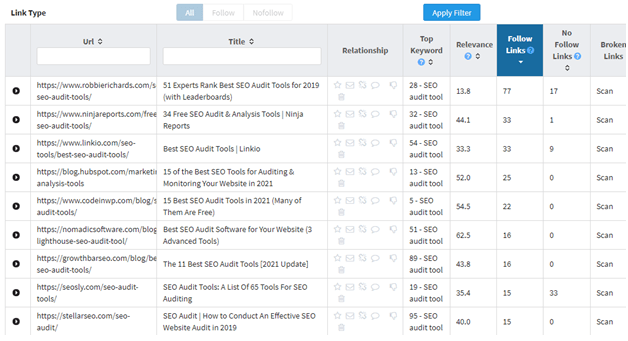 A report designer is a drag-and-drop tool that allows you to design website audit reports easily. You can choose the data which you would like to show in an audit report. Furthermore, the reports are entirely white label which means there won't be any branding of SERPtimizer.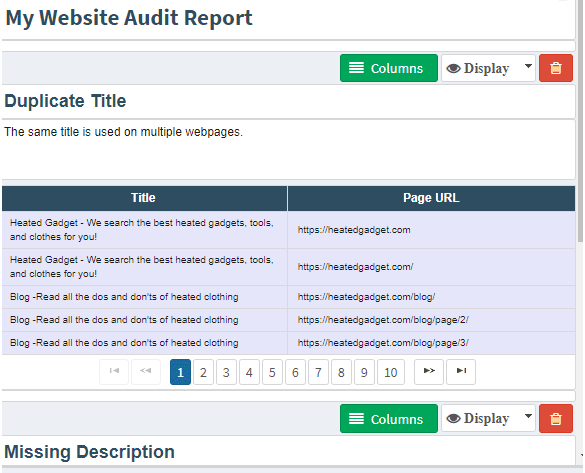 Pricing
There are three pricing plans. The free plan allows you to add up to 10 projects, crawl 500 pages per project, and design the audit report.
The basic plan allows you to add ten projects, crawl 10,000 pages per project, track 120 keywords, 50 domain keyword searches, backlinks data, and 100 searches for link prospecting. You can also design audit reports easily.
You can add 20 projects in a professional plan, crawl 25,000 pages per project, track 250 keywords, 100 domain keyword searches, backlinks data, and 250 searches for link prospecting. Moreover, this plan also allows you to design the audit reports.
You can save $3 per month on the basic plan and $6 on the professional plan if you pay annually.
Pros and cons of SERPtimizer
Pros
It has a generous free plan.
It is a very easy-to-use tool having a powerful yet simple interface.
You can easily track how well your website is doing.
You can design custom white-label reports.
Cons
This SERPtimizer SEO tool is only available in English and German languages.
Conclusion
SERPtimizer is a robust, affordable, and beginner-friendly SEO tool that helps us audit websites in depth. It analyzes content, backlinks, internal links, and all other aspects of SEO. Finally, it gives us actionable reports.
I recommend this tool to everyone who owns a website or works for those clients having websites. It has made my life easier. I don't spend hundreds of dollars every month anymore.