Do you really want to create a wordpress blog? I will make it possible. Just follow this guide step by step, so that you don't get stuck on any step.
Why choose WordPress platform?
There are many platforms by which you can create your desirable websites. Choosing a blogger/blogspot or free wordpress blog will cost you nothing.
Choosing wordpress gives you more customization according to your need.
Its independent platform other than blogspot which is a google service.
In this blog, I will share step by step, graphical images to make it all clear to you.
To start a wordpress blog, here are few things which you need before we can start blogging.
1) WampServer
2) WordPress Files
Why are these software's & files needed?
To create your own blog, we will create a server on our local host or on our pc/laptop. WampServer is required to run mysql, apache tomcat and php by creating a local server.
WordPress files are used to install and create wordpress blog websites on our system.
Links to download: To Create a wordpress blog
How to set up WampSever & WordPress?
After downloading WampServer, run the wampmanager.exe wait for a few seconds. Then open any browser and type http://localhost/phpmyadmin/ on address bar and hit enter.
Enter the root in the username and in the password section left it blank. Then proceed. You will see lots of options on the top of the menu.

Then click on databases from the upper tab, then enter a name of your database and click create. See the below image for help. Then close the tab.
NOTE: This database name will be used in further steps.
Then download the wordpress files and then open the wordpress folder, where you will get files like wp-admin, wp-content. Copy the whole folder named wordpress. Then rename the wordpress folder to your own choice.
Visit to the location where you have installed the WampServer. You need to paste the wordpress folder after opening a folder named as www.. After that open wordpress folder wp-config-sample file can be seen there. Change its name to wp-config.php
Then You need to open this wp-config file with the help of an editor(it can be any notepad++ or notepad editor).
You need to change the database name.by your own choice.
Change the database user to your own choice.
Change the database password to blank and save the file.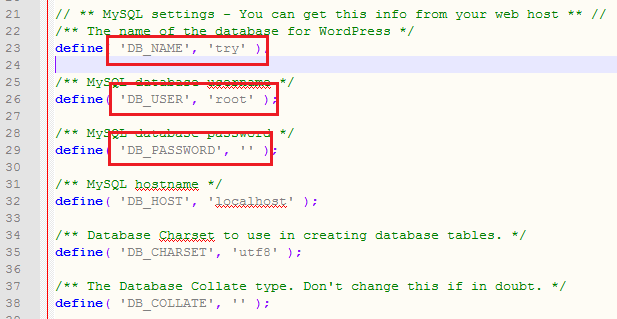 Then type localhost/folder_name_of_your_choice , hit enter.
Installing options can be seen after that on your system.
You can encounter an error saying error establishing connection with the database. Just check your folder name you have entered, database password must be blank.
You need to enter a name of your choice, you want to keep for your website.
Create a Username & Password, it will authorize you to login to your wordpress blog panel.
Don't forget to mention an email, it will assist you when you forget your password.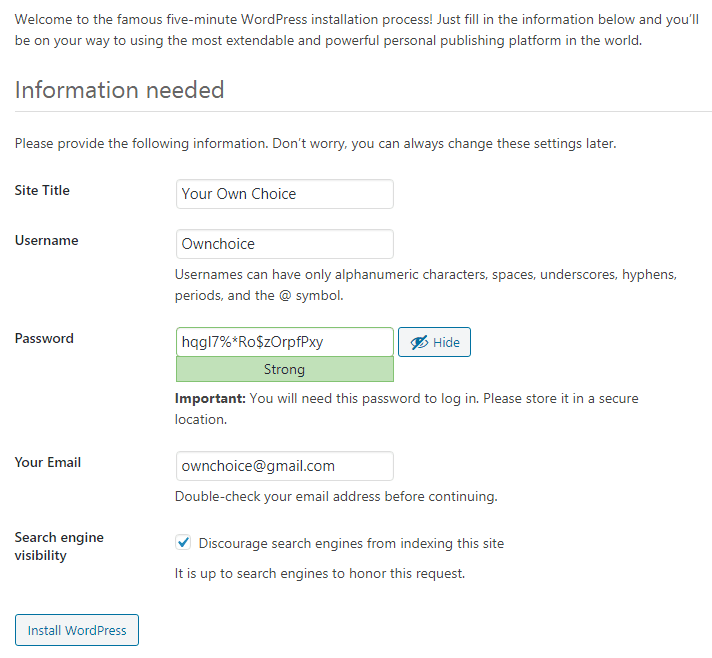 Then after entering username and password you will be seeing your wordpress blog dashboard.
It will allow you to create customized blog websites.
Lets customize your website, by changing the theme.
If you are not liking the current theme, you can change it., select appearance ,then themes. Click on add new,. If you want to upload any theme you have purchased. Select option upload theme and select the zip file to upload it.
Select any theme to change it , then after installing, click the activate button to make it live.
You can buy domain & hosting services of hostinger, as they are so economical for people who wants to start wordpress blog.
Choose the Best WordPress Hosting Deals:
Let's create Categories, Menu & Pages
Category Creation
In order to create categories click on posts, then categories. Click on name and enter the name of categories you want to create. Then click on slug and choose a url which can be seo friendly. If you want to enter some description you can add it down in the description box and then proceed by clicking on Add New Category.
Sub-Category Creation
If you want to create a sub-category then select Parent Category and choose the name under which you want to create a sub category.
Page Creation in wordpress blog
If you want to create pages like, contact us, privacy policy and more like that. Click on Pages option, then add new.
Create the content you want on your page and choose the url slug according to your need.
Setting Featured Images
If you want to set a great image for your content thumbnail, you can easily set it from the option, featured Image. Just select the image and set it. That's all.
Customize your website with less effort using plugins
When you have set all things like post, categories, themes. Still if you need more things in your website like contact us form or page, advance seo setting, you need to rely on plugins.
Plugins help you a lot in achieving what you really want to without any complexity or coding knowledge.
Plugins will be available at the left side of your dashboard, you can add new one, activate or deactivate the plugins according to your need.
Related Content:
14 Simple tips to Increase your website organic traffic
Create high quality backlinks using effective guide
Creating Contact form
Before we create contact form, we need to install a plugin which will help you to create contact form in just less than one minute.
You need a plugin called WPForms. After installing, select WPForms plugin, Click on add new.
Then name the form you want to create and select Simple Contact Form from options.
Then click on fields, to add more parameters you want to add like name, phone number, email id.
Then save the form and go to WPForms dashboard.
After that you will see the code in front of the form you have created, copy that short code.
Visit the pages section and paste it in a new page and rename it as contact Us. That's all. Your contact us page in wordpress blog is done.
You are all set.
Scheduling a Post
Do you know that you can schedule your post according to your needs? In wordpress blog, its more used to enhance usability. Even you can post on a backdate. Just select the document tab and in front of immediately publish, select immediately you have the option to choose a date and time. Then click on schedule post.
Now you have an idea how to create post, category and pages. Work according to your need, I will share a post on how you can move from blogger to wordpress, using localhost database and wordpress files.