Every website owner or blogger does their best to push their blog to appear in the top position or google featured snippets.
Who doesn't want to appear in google featured snippets?
You have also worked very hard to increase your website visibility and to gain top position in Google SERPs.
You have applied every described activity for seo, that you know.
Before writing a post, you do very intense keyword research, to write high quality and well-targeted keywords. Tried to gain maximum exposure by sharing your content with social media platforms and other platforms too.
Only gaining rank in the top 10 positions is not enough if your rival has a featured snippet on the same keywords you are targeting. Then all your effort goes in vain.
Here are a few steps which will ensure all your efforts will not be wasted.
Sometimes the number one position ranking website also gets a competitor that got featured snippets by some of your rivals. That's why it is necessary to do a well & deep competitors' analysis.
This will give you some ideas like on which keywords your competitors are ranking and grabbing feature snippets.
Google serp result contains normal links, listed content, answer formatting, tables, and most useful feature snippet. Such results can be seen in google serp while searching for any specific query.
A study published in Stone Temple Consulting stated that google shows 30% of results by feature snippets, and feature snippets are still increasing each year.
Why are they gaining so much popularity?
The only reason is people got an accurate answer for their query while searching for any problem, which is easily readable, convenient. There is no need to click anywhere to read more.
It will easily increase your traffic, boost your conversion, and make you win the competition if your post appears in featured snippets.
You hear this term very often. Let's understand what this term means? How can you easily optimize your content to gain a featured snippet?
What is the meaning of Google Featured Snippets?
A featured snippet is sometimes called a rich answer. It is enclosed in a block that gives a very specific answer to the query asked by the user.
Google automatically extracts the answer for the query from some already ranking content. It can be from low-ranking SERPs if your website contains the specified answer for the query.
It is not necessary to already have a position one in google serp to appear in featured snippets. According to a research conducted by Ahrefs 31% (Approximately) of the top ranking, the page appears in featured snippets.
The featured snippet is called position zero. The featured snippet is placed before the first position in Google SERPs. You have also seen many featured snippets while searching for some queries.
Here is how it looks.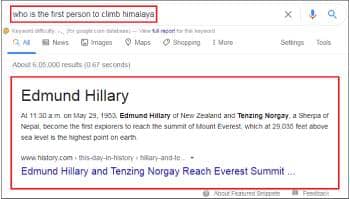 You can easily find a featured snippet when asking some queries started by who, when, what, where, or how. You can sometimes see the featured snippet while searching for some specific query.
It contains a summary of the content, link to the website, and title of the page with featured images.
It gives searchers a tension-free answer without clicking and reading for an hour to conclude. They appear so quickly in search results.
If you are lucky to have placed in a featured snippet, you will get a huge amount of traffic and clicks because the featured snippet is placed above the first position.
You will get maximum exposure & visibility as your page is placed at rank zero.
The featured snippet will appear in front of you in the center; the area covered is large compared to natural organic results.
You don't need to pay some advertising companies to rank your content. There is no eligibility to be at a top in your category, regardless of your budget. You can earn place zero, only when you do things in a written way.
If you want to be placed in google featured snippets, make sure your website, page, and blog content are of high quality correctly formatted. Before getting the ways to place in feature snippets, you will steal your competitor's traffic when you get the simple way to appear in featured snippets.
There is not any fixed way to earn a featured snippet from a web. Make sure your content is up-to-date, as it is not a position that no one can replace.
If Google finds another page with great and more informative content than your website, it will lose your position zero. The other page will be given that spot, which is best suited to rank.
You still have a chance to appear in google featured snippets if you have not even ranked high. The chance to appear in featured snippets will be high if you post content related to (DIY) Do-It-YourSelf, Finance, or health.
In a study done by Ahrefs, they found that if you search with some words, like Best, Recipe, Vs., Make, Cost, Price, List, Top, Size, etc., you have a better chance to appear in a rich snippet.
You will surely get the clicks, which will boost your ctr because you are the main attraction placed by Google in their search result.
Let's take a look at types offeatured snippets in google serp.
● Paragraph
● List (Ordered List & Unordered List)
● Table
● Video
Paragraph Featured Snippets
This is the most popular type of rich snippet. This snippet contains a brief answer for the query asked by the user by clearing the point. Sometimes you will see an image attached also.
List Feature Snippets
Such snippets contain some steps to do something or a list of tasks, like steps to make a recipe. When the original post contains an unordered list, the snippet will appear in a bullet like a snippet.
But if they are in a number list, they will also appear in the number list.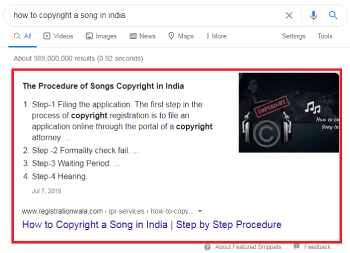 Table Feature Snippets
Such snippets show when user queries contain the price, vs. like words. It is very uncommon to appear in such a format. Sites having such tables have a chance to appear in this query. If you also want to appear in this query, make sure you correctly format the table.
Video Feature Snippets
This type of snippets video contains a video player in search results if the user asks for something like songs, design, creation, or movie.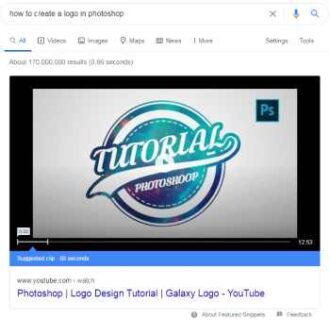 The video is selected from a youtube search with the duration from where such a query starts.
Now It's Turn to Steal Feature Snippets of Your Competitors
There are many tools that you can use to do it, but I use Semrush & Ahrefs to do that.
If you have any other tool to crack this, go ahead as they can reveal all secrets of websites. You can easily find feature snippets that your rival is owning.
So let's get started.
First, visit the Semrush website (I use the paid version of it to check all its features) and enter your rival home page URL.
On the left side menu, click on Organic Research, then scroll down.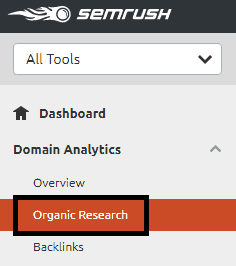 There you will see SERP Features, under which you will be able to see Featured Snippets.
After opening the featured snippet, you will see all keywords your rival is getting feature snippets.
You can also use this fantastic tool to check all their organic keywords, long-tail keywords, and deep backlink analysis.
By doing backlink analysis, you can make backlinks on the website where your competitor has already made.
You can also check your website to keep a sight on keywords that you can easily rank.
Reveal the possibilities by Google
You can also use the google search engine to find the most optimized content in featured snippets. Only you need to think like a normal user.
You can find it easily by searching any query, and look for the section "People Also Ask," here you will get a list of queries searched by many users. Just look at all these queries and spend some time and make a post more effective.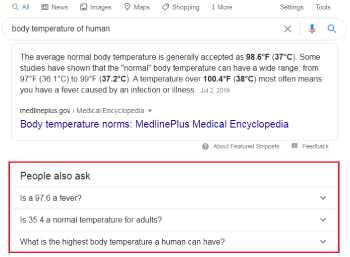 In the same manner, you can use "Serpstat" to find more keywords that can lead you to appear in featured snippets.
Try to write content in paragraph form; don't just make a single line content.
If you want your content to appear in featured snippets then, the content must be more than 40 words and less than 50 words.
Also, try to create a list, bullet, and paragraphs with suitable headers. Try to start with h1, h2, h3, and till h6 in an organized way.
Create a Question Answer or How to Section
You will realize that if you make a "how to" or "question answer" section on your website, that it will give you more chances to appear in featured snippets. These answers also include FAQ related to the services and products you provide.
Have Some Low Hanging Fruits by Using Ahrefs
Like SEMrush, you can also try Ahrefs. It is very useful to take more details of your competitors.
Just enter the website URL and click Organic Keywords.
Then from SERP Feature drop-down, select Feature Snippets. This will show you all keywords that are making the website to appear in Rich Snippet.

I hope you like the idea of creating your feature snippets.
Do you have any tips to appear in google featured snippets or steal your competitor's feature snippets?